Finally—A Natural Remedy for Stress Incontinence
O-Shot® therapy at  Scottsdale PRP Aesthetics strengthens pelvic muscles to help eliminate incontinence Urinary incontinence doesn't only afflict women who are past menopause, younger women can also experience the embarrassment of unexpected urine leakage when...
Read More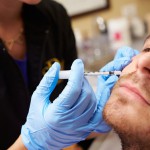 Vampire PRP Treatments may be the Most Effective, Natural Aesthetic Procedures
Vampire treatments, also called PRP, uses a body's growth factors to regenerate cells and reduce the signs of aging. Have you heard about Vampire treatments, utilizing a specific PRP procedural technique? Despite the scary name, it's an effective, safe,...
Read More